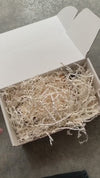 A feast of nourishing botanicals and proteins your hair will love. Get stronger, smoother, more supple hair.
OVERVIEW
Damila Nourishing Conditioner is a cornucopia of healthy ingredients like kiwi seed extract, hydrolyzed keratin, and aloe. It conditions, strengthens, and prevents breakage. See fewer flyaways and frizz plus smoother, silkier hair after just one use. With continued use, you can expect to see longer, stronger hair with greater elasticity.
HOW IT HELPS
Dryness: Moisturizes your hair from within then locks in moisture.
Dullness: Leaves hair smooth, silky, and shiny.
Split Ends & Breakage Adds elasticity and strength to strands.
Frizz & Flyaways: Smoothes the hair cuticle, preventing frizz & flyaways.
Scalp Health:Actively repairs skin cells and soothes the scalp.
PRODUCT DESCRIPTION
Damila Nourishing Conditioner is a must for keratin-treated hair. It also works great for all hair types. Formulated with the highest quality ingredients, it conditions, strengthens, and protects your hair.
Nix dryness and dullness the first time you use it! Olive oil and silk protein moisturize your hair from the inside out, adding silky shine. Hydrolyzed keratin smoothes the cuticle and locks in moisture, preventing dryness and frizz. Aloe vera and kiwi seed extract leave your hair smooth, healthy-looking, and flyaway-free.
Watch your hair grow long and strong the more you use it!
Silk protein strengthens while kiwi seed extract ads elasticity. This protects your hair from split-ends, which lead to breakage.
Our Nourishing Conditioner targets your scalp, too. Aloe vera repairs skin cells, preventing flaking. Soothing sunflower seed oil and olive oil prevent irritation by drenching your scalp in moisture.
TYPES OF HAIR
All hair types. Especially dry, damaged, or keratin-treated hair. Great for children's hair too.
HOW TO USE
Use after washing hair with Damila Salt and Sulfate Free Shampoo. Generously apply the Damila Nourishing Conditioner from roots to ends. For best results, use a wide-tooth comb to distribute through hair. Rinse with warm or cool water.