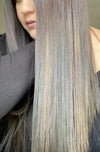 A quick injection of keratin that leaves hair silky smooth, touchable, and frizz-free.
OVERVIEW
Enjoy the benefits of a keratin treatment in less than 30 minutes! Damila Hair Rejuvenation Treatment conditions and restores even the most damaged and brittle hair. The nourishing ingredients in the Damila Deep Treatment Mask work deep within the hair cuticle. Provides an immediate boost to silkiness, texture and shine.
HOW IT HELPS
Dehydration: Drenches hair in moisture, making hair silky smooth.
Brittleness: Softens and smooths brittle, dull hair.
Split Ends / Breakage: Strengthens hair from roots to ends.
Dullness:Leaves the hair shiny, glossy, and more manageable.
PRODUCT DESCRIPTION
Damila Hair Rejuvenation Treatment provides many of the revitalizing benefits of a full keratin treatment without the time commitment. Apply the treatment right at home in just 30 minutes. Leaves hair smooth, shiny, and gorgeous. Eliminates frizz and flyaways while enriching your strands.
Transform your hair with the highest quality ingredients that protect and strengthen your hair. Add beautiful silkiness, moisture, and gloss.
Keratin is the key protein that makes up the cells of your hair. Which is why keratin treatment is the most effective way to restore your hair's natural beauty. Hydrolyzed keratin smoothes the cuticle and locks in moisture. This prevents dryness and frizz.
Collagen strengthens the attachment of the hair follicle to the scalp. This adds elasticity, repairs brittleness, and prevents hair loss.
Brown rice protein nourishes the roots, encouraging cell growth while increasing circulation. Your hair will grow stronger, thicker, and longer.
Soy protein heals damaged hair and helps hair retain moisture. Increases the strength of each individual strand so that your hair doesn't break. Hair grows long with beautiful, smooth texture.
TYPES OF HAIR
All hair types. Especially dry, damaged, or keratin-treated hair.
HOW TO USE
Step 1: Wash your hair thoroughly, 2 or 3 times if needed. The high surfactant concentration of the Damila Deep Cleansing Shampoo is very effective at removing build-up and residues from previous chemical treatments, as well as ions and minerals found in hard water. The hair is left completely clean and the cuticle in a very receptive state ready for the Damila Deep Treatment Mask to be applied. Rinse very well.
Step 2: After shampooing, apply the Deep Treatment Mask to nourish and enrich your hair with revitalizing nutrients that give your hair elasticity and shine. Cover with a plastic cap. Leave in for 20 minutes then rinse.
Step 3: Now that your hair has been conditioned and restored to a healthy state, it will be much more manageable to be styled as you desire. You're now ready to blow dry, flat iron, or curl your restored silky hair.
Maintenance: To extend the results of your treatment, wash and moisturize your hair with Damila Salt and Sulfate Free Shampoo and Nourishing Conditioner Set.
On every third wash, use the Damila Deep Treatment Mask instead of the Conditioner for added silkiness, texture, and shine.