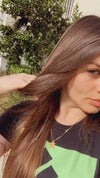 A nice, light oil that repairs and protects your hair while adding shine. Leaves hair protected and feeling silky, never greasy.
OVERVIEW
A must for daily protection against environmental factors like humidity and pollution. Essential for protection before thermal styling, preventing heat damage and split-ends before they happen. Actively repairs your hair throughout the day. Leaves hair super-hydrated and shiny without weighing it down. Tames frizz and flyaways with just a few drops!
Your hair will feel like heaven every time you use Damila Repair & Shine Serum.
HOW IT HELPS
Frizz: Hydrates and calms hair, eliminating frizz and flyaways.
Split-Ends: Prevents and repairs split ends for healthy hair.
Heat & Environment: Protects hair from thermal and environmental damage by acting as a barrier around strands.
Oily Scalp: Controls oiliness that leads to greasy-looking hair.
Lacklusterness:Adds brilliant shine and glossiness to dull hair.
PRODUCT DESCRIPTION
Damila Repair & Shine Serum makes your hair look and feel amazing! Ingredients like sunflower seed extract and vitamin E drench your hair in lightweight moisture. Leaves locks touchable and shiny. Calms frizz and flyaways while hydrating your hair.
A little goes a long way with this lightweight oil. A few drops rubbed between the palms is enough for your entire head of hair.
Apply to wet or dry hair before heat styling to protect hair from split-ends, breakage, and dryness. Apply to dry hair after styling for an extra glossy boost. May also apply to wet hair before air-drying for super soft silkiness. Great to use on refresh days too!
TYPES OF HAIR
All hair types.
HOW TO USE
Apply a small amount to the palm of your hand. Rub between palms to warm and activate serum. Work evenly throughout your hair, avoiding roots.